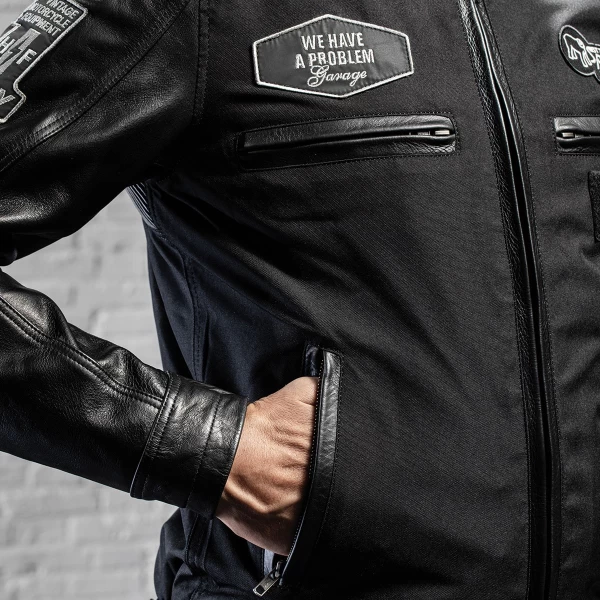 An elegant armor, transversal to every type of motorcyclist and completely black.
Refined in detail and in fabrics' combination.
__________________________________________
outside: 60% Top quality cowhide leather (sleeves and details) / 40% CE approved Polyester Maxtax 600D (front chest and back)
lining: 100% black silk
• Certified leather jacket for motorcycle use.
• Cowhide leather tested against abrasion + CE approved Polyester Maxtax 600D for motorcycle use
• The clean and timeless design make it perfect for custom bikes, cafe racers and touring.
• totally waterproof, thanks to a full waterproof third layer film inside
• All external patches are HolyFreedom® originals, in 3M reflective material to improve safety in case of night driving
• The inner lining of the jacket is completely in black silk.
• Elbows insert in elastic leather to favor the bend of the arms.
• It is supplied with elbows and shoulders special universal housings.
• It is also equipped with a back pocket for the insertion of a universal back protection.
• Adjustable cuffs, motorcycle closure with internal bellows, zip plus snap button.
• All the zips supplied are YKK
• Front metallic YKK zip is 2 ways
• The jacket has a total of 4 zipped external pockets
• The jacket has 1 zipped internal pocket, and 2 internal pocket.
• All metal buttons are HolyFreedom® personalized
• All constructions details are personally tested by our Holyfreedom® guys
• Biker collar with snap closure and reflective Holyfreedom® writing.
• Wrist closure with zips and snaps.
• External adjustment with snap on the hips.
• Cardboard label attached with ribbon with model and size For fitting, please check carefully fitting card, and don't hesitate to contact us.
You might also be interested in....